As the colder weather sets in and we rug up in long pants and woolly jumpers, we spend more time indoors with our heaters blasting warm, dry air. On top of that, because the decreased humidity in the air during Winter causes moisture in our skin to evaporate more quickly, the result for us is often dry, cracked and dehydrated skin.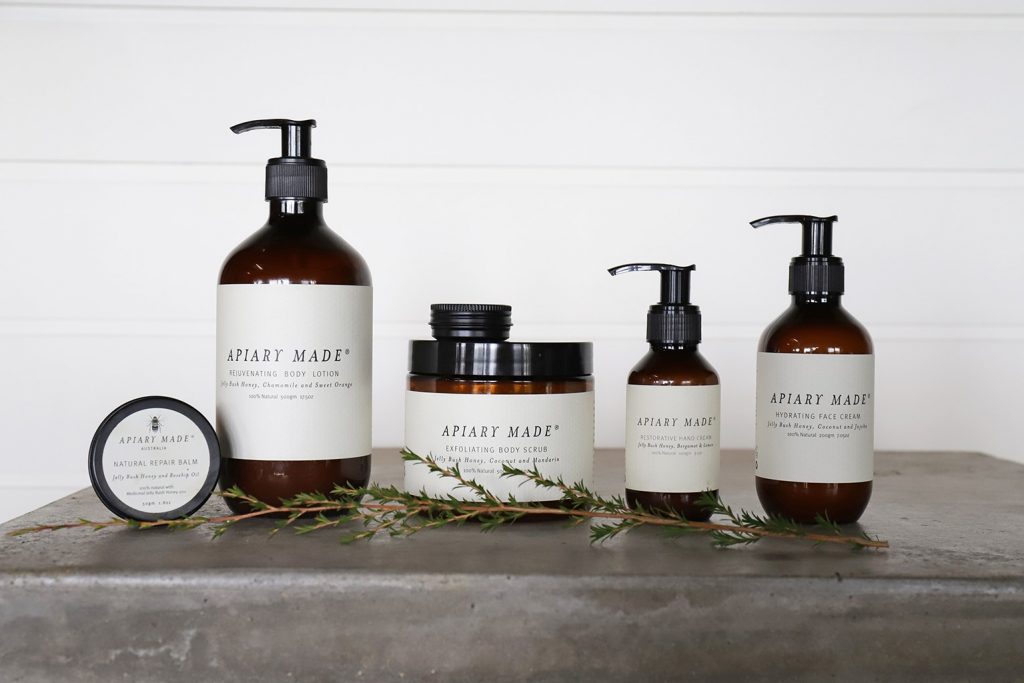 Apiary Made skincare is handmade using the astonishing protective and nourishing qualities of Jellybush Honey – Australia's Manuka. Jellybush Honey has the same active properties of Manuka Honey and is a known anti-oxidant, anti-inflammatory and anti-microbial. The anti-microbial properties of Jellybush Honey can help treat acne and inflammation without drying your skin out. Importantly, Jellybush Honey is also a humectant so it draws moisture from the air into the outer layer of your skin keeping your skin soft and hydrated.
If your skin is in need of some love, here are our top tips for caring for winter skin:
• Use a great body scrub
I know, I know…everyone loves long hot showers in Winter but using a body scrub in a 5 to 10 minute lukewarm shower is much better for your skin than a hot shower. Apiary Made Citrus and Sea Salt Body Scrub contains mineral rich dead sea salt which gently exfoliates your skin together with a range of beautiful natural oils including coconut oil to moisturise and soften your skin.
• Moisturise straight after your shower
Once you've given yourself a quick towel dry, apply Apiary Made Honey, Chamomile and Sweet Orange Body Lotion. Apiary Made Body Lotion is filled with the anti-ageing and healing benefits of Jelly Bush Honey so is perfect for sensitive and delicate skin types.
• Keep your hands hydrated
It is so important to regularly use a good hand cream in Winter, particularly now because we are washing and sanitising our hands more frequently than ever. Apiary Made Honey, Lemon and Bergamot Hand Cream contains intensely hydrating botanicals which hydrate your skin and smell absolutely divine!
• Lip butter…always!
Lip butter is essential in winter to keep dry lips at bay. Apiary Made Natural Honey Lip Butter is made with a base of natural beeswax combined with luscious oils and Jelly Bush Honey.