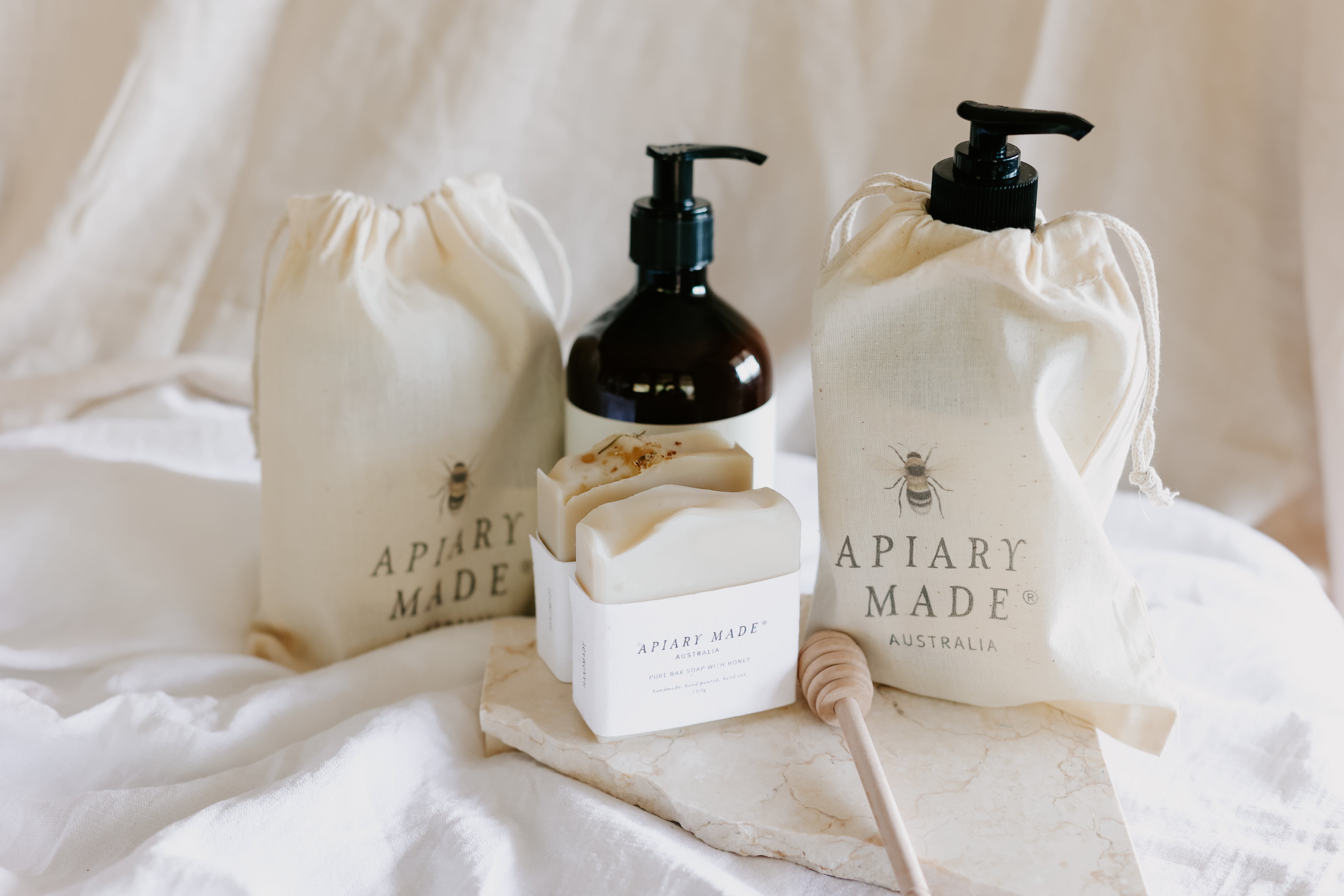 handmade, mindful gifting
Our mission
We believe that skincare for sensitive and compromised skin doesn't always need to be complicated. We believe that doing less with quality products can do more for your skin's general health. We believe that Manuka Honey is the absolute best ingredient available for sensitive skin.
MADE by BEES, SUPPORTED by SCIENCE
uncomplicated, natural skincare powered by Australian Manuka Honey
Honey
Our bees freely forage the local national parks in the Yarra & Trawool Valleys to create this gorgeous local honey from Australian wildflowers. From the hive to the jar, our honey is just as nature intended and as our bees created it.
SHOP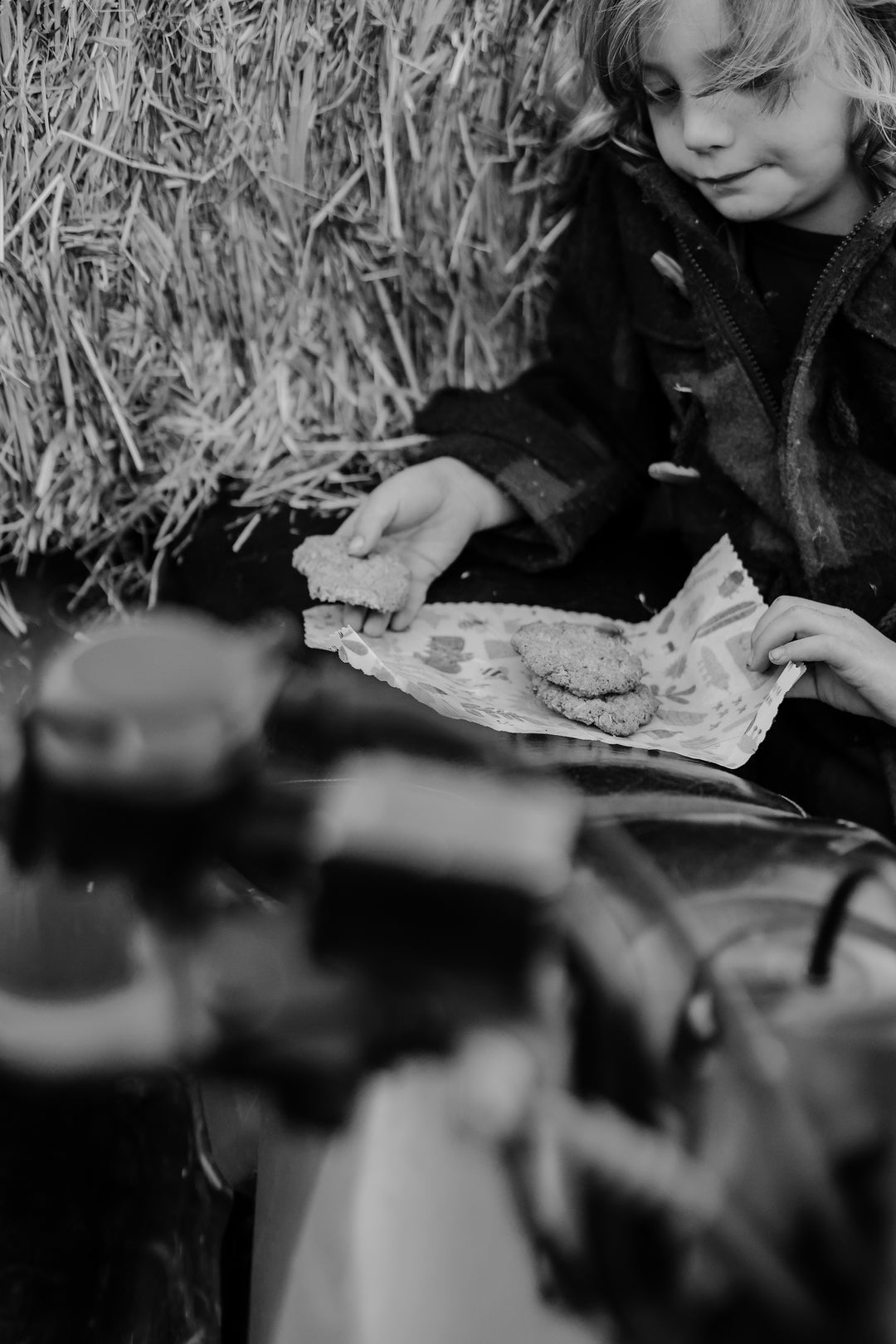 Beeswax Wraps
Invest in the perfect food storage accessory and say goodbye to plastics with these colourful Apiary Made Beeswax Food Wraps. Featuring fun and lively designs to suit any kitchen, picnic or dinner party. Made from GOTS certified organic cotton, beeswax, jojoba oil and natural tree resin. 
SHOP
Skincare
We believe that Manuka Honey is the holy grail when it comes to the benefits it provides to sensitive skin, acne, rosacea, coldsores and other skin troubles. We use only the highest grade honey available to bring the most potent natural care to your skin.
SHOP
Let customers speak for us
Bee autiful lips
Dreamy fragrance and luscious texture
Reusable packaging
Apairy Made Hand Restorative Cream
I can honestly say this is the best hand cream I have ever used. It does not contain any ingredients which are a problem for my skin. My hands are now so soft after many years suffering with sore hands. I use it daily morning and night. After gardening, my hands are often feeling very dry and rough, which is when I apply this wonderful cream to quickly restore the softness to them. It also smells amazing. Please don't stop making it!
Natural Repair Balm
I have found Natural Repair Balm to be useful for easing the redness, discomfort and pain of chilblains on my feet. It is also great for healing scratches and skin irritations.
This Hand Cream is Delicious
One of the best hand creams I've used! Love the scent and the way it makes my hands feel!
Great product
Full of natural ingredients, worth for the price of the product , helped to reduce the allergy
So cute and amazing quality
I bought some for a friend a few years ago and can't believe it's taken me this long to get my own! We both absolutely love them. They look great, are practical and no more gladwrap - everyone wins! I bought some for my mum and mother in law for Christmas too!
The lip butter is soooo smooth and smells amazing. It's going to last ages too. Thanks Apiary Made!
OBSESSED!
My absolute favourite product. A total game changer for dry lips. My kids also adore using the product!
Absolutely incredible
Best lip butter ever!!! Smells amazing too! Can't get enough!
A new favorite body lotion!
After trying and loving Apiary Made restorative hand lotion, I decided to try the Honey, Chamomile and Sweet Orange body lotion. I'm so glad I did! I use it every day after showering. Love how my skin feels, and love the fragrance. Thank you Apiary Made!
Honey, Coconut and Jojoba Hydrating Face Cream
Love this face cream, it works well to deeply hydrate my sensitive skin that easily dries out. In general my skin works best with thicker creams, it absorbs well and makes my face feel fresh.
My new favorite hand cream!
I live in the Midwestern USA, with very cold winters. Your Honey, Lemon, and Bergamot hand cream is the most healing hand cream I've tried. I use it every night. Love the scent too!
Best Beeswax Wraps!
I first tried Apiary Made beeswax wraps when I was visiting my son and family in Melbourne. (I'm from the US). The quality of the wraps is perfect, and they stay sealed around the food they cover, keeping the food fresh. I haven't found anything close. I only order beeswax wraps from Apiary made!
Natural Honey Repair Balm
I have loved every product I've tried from Apiary Made. This Balm is great, I use it as a lip balm, on dry skin, my kids skin when they get a graze/cut/eczema. It is a good consistency and lovely scent and feel.