Recipe: Honey and Caramelised Pear Tea Cake
 HERE IS A VERY SIMPLE PEAR TEA CAKE RECIPE STARRING HONEY. BECAUSE WHAT'S A GOOD AND DELICIOUS WAY TO REDUCE YOUR PLASTIC THIS MONTH? BAKING AND COOKING ! BY REDUCING THE AMOUNT OF STORE BOUGHT ITEMS, AND USING RAW (USUALLY BULK) INGREDIENTS, WE AUTOMATICALLY REDUCE OUR PACKAGING FOOTPRINT. 
Honey and Caramelised Pear Tea Cake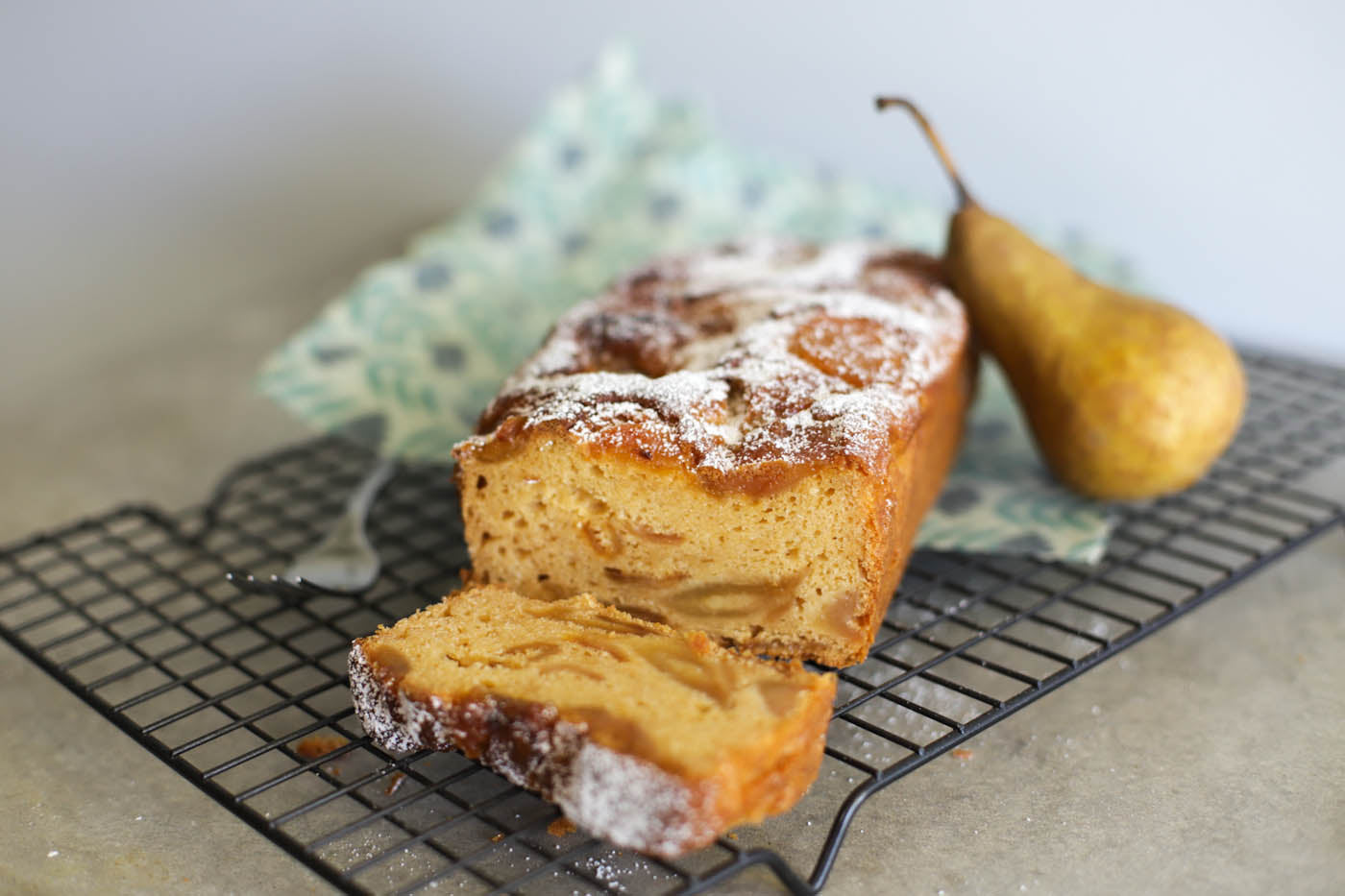 This is a very simple Pear Tea Cake recipe, and you can use gluten free plain flour if you prefer. 
Ingredients for Pear Tea Cake:
4 Beurre Bosc pears
100ml honey
125gm unsalted butter, chopped (at room temp)
225g (1.5 cups) plain flour
1.5 tsp of baking powder
100gm cream cheese
100 gm (half cup) caster sugar
1 tsp vanilla bean paste
2 free range eggs
Icing sugar for dusting
Method for Pear Tea Cake:
Step 1
Place the pear, honey and 25g butter in a large frying pan over medium heat. Cook, turning the pear occasionally, for 10 – 15 minutes or until caramelised. Remove from the heat. Use a slotted spoon to transfer the pear to a plate, reserving the liquid in the pan. Allow the pear and the reserved pear liquid to cool. (If you don't have 100ml of reserved pear liquid, add a little bit of water and place over low heat to melt through and combine)
Step 2
Preheat the oven to 180C/160C fan forced. Line a 9 x 21cm (base measurement) loaf pan with baking paper. 
Step 3
Sift together the flour and baking powder in a bowl. Use electric beaters or mixer to beat the cream cheese, sugar, vanilla and remaining 100g butter in a separate large bowl until pale and creamy. Add the eggs, 1 at a time, beating well after each addition. Use a large metal spoon to gradually fold in the flour mixture and 100ml of the reserved pear liquid, in alternating batches, until mixture is smooth and combined. Fold through half the pear slices. Spoon the mixture into the prepared pan and smooth the surface. Top with remaining pear slices. Bake for 1 hour 10 minutes or until a skewer inserted into the centre of the cake comes out clean. Set aside to cool slightly in the pan before turning onto a wire rack to cool completely. There you have your pear tea cake. 
Step 4
Sift icing sugar over the cake to dust for a good- looking Pear Tea Cake.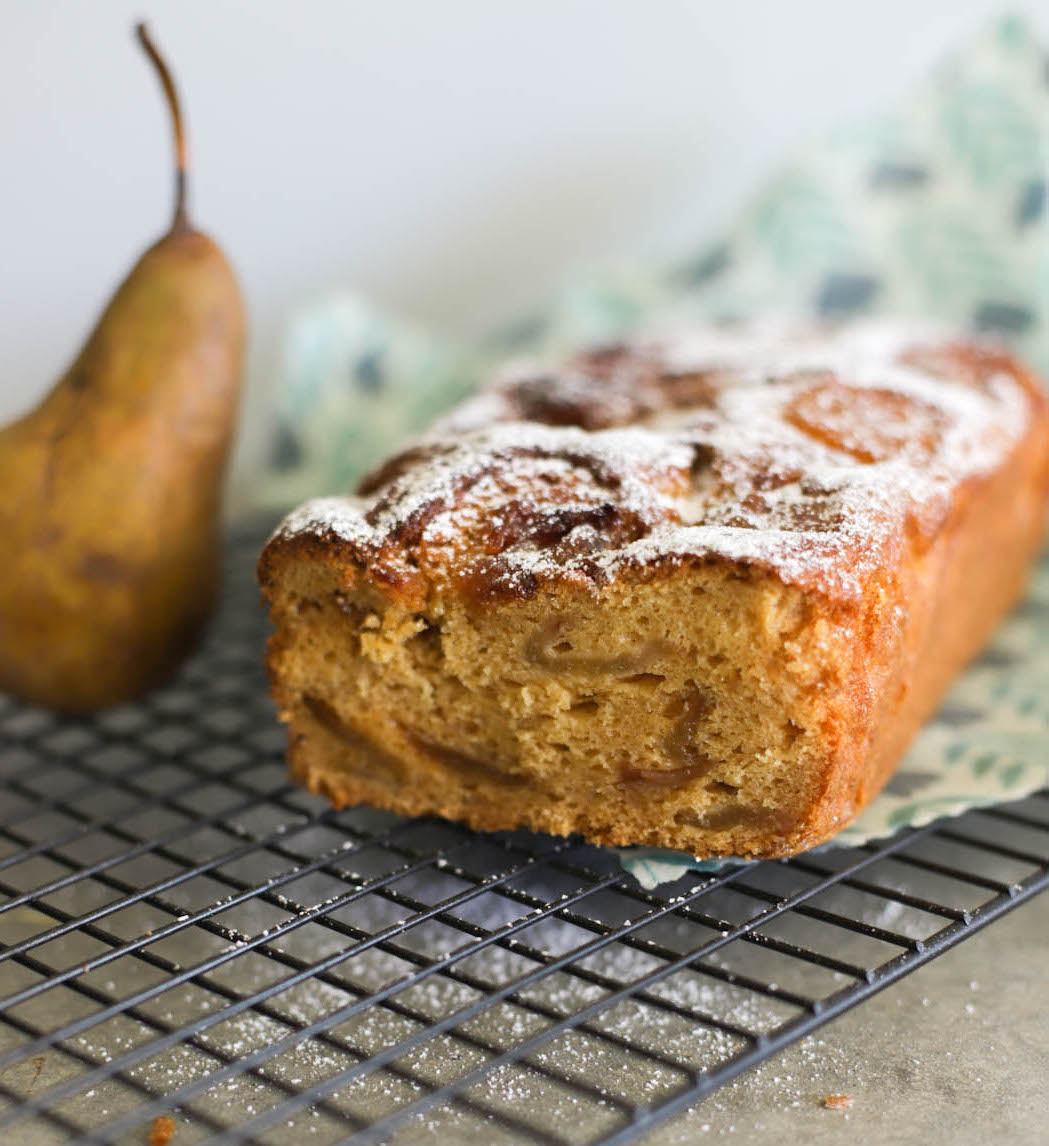 There you have it. Enjoy!!
BEINENSTICH (BEE-STING) CAKE… YOU'RE WELCOME!!