SIMPLE & SUSTAINABLE SWAPS FOR A CLEANER FUTURE
START WITH THESE SIMPLE SUSTAINABLE SWAPS ON YOUR PERFECTLY IMPERFECT PLASTIC FREE JOURNEY.
Sustainable swaps are the first step and a great start on the long but fruitful journey to bringing awareness to and reducing our plastic waste.
"We don't need a handful of people doing zero waste perfectly. We need millions of people doing it imperfectly" – Anne-Marie Bonneau
The Guardian, sourcing a newly released report states, "Humans have produced 8.3bn tonnes of plastic since the 1950s with the majority ending up in landfill or polluting the world's continents and oceans…"
In a first global analysis of mass produced plastics, the report found plastic has exceeded most other man- made materials. It also found that this growth in plastic production has been largely driven by packaging and the rise of single – use containers, wrapping and bottles.
While the onus is not just on the individual, it is our responsibility to reduce the need for these single- use items by choosing sustainable, reusable items instead. By easy sustainable swaps we can make a huge difference not just in our own lives but for our environment long term.
Below are five simple swaps targeting single use items.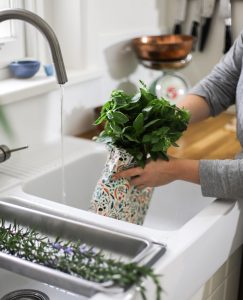 CAN YOUR COFFEE CUP
Morning takeaway coffee a must? Come prepared next time with a Keep Cup. Now that there are so many on the market, you can choose from glass and ceramic cups. OR, take a seat and have your coffee in (honestly, sometimes it doesn't even take that much longer, plus less chance of coffee car spillage!).
Some of our favourites are @frankgreen @robertgordonpottery
WASTE NOT WATER BOTTLE
One of the most prevalent items in landfill, plastic bottles use up lot of our resources (including water!). The combination of public taps and reusable bottles means that besides a hydration emergency, ditching the plastic bottle is fairly easy these days. Keeping a few bottles filled up in your fridge for grab and go is a good idea too. If you don't like the taste of tap water, bottle filters are also an option.
Some of our favourites are @sendaessentials @kleankanteen
DO WITHOUT DISH SPONGES
Dish sponges can leach micro plastics into the ocean and are also a pretty prominent magnet for bacteria. Get your hands on some reusable dish brushes or brushes that are long lasting and compostable. Rags are also a good option, especially for hard to reach things, just ensure you wash your rags consistently and dry well.
Some of our favourites are @eco_max_brushes
FORGET FOIL AND GLAD WRAP
What can we say here but choose beeswax wraps instead! Designed to replace your single use kitchen plastics, these will also help keep your food fresh for longer. Shop a wide variety on our shop page.
For more inspiration, check out this great blog
SAY GOODBYE TO STRAWS
Plastic straws used to be everywhere in hospitality. But now, a lot of cafes, restaurants and bars use paper straws. This is better than plastic, but a lot of the time, do we even really need a straw? Try asking for your drink without.
If you love a smoothie or juice on the go, there are stainless steel and bamboo options on the market which you can take with you everywhere and they even come with their own cleaner. Try ones that come in a pouch for simple transportation.
Some of our favourites are @littlegreenpanda_
https://www.theguardian.com/environment/2017/jul/19/plastic-pollution-risks-near-permanent-contamination-of-natural-environment