INSIDE BEEKEEPING – WORLD BEE DAY
We may be inside more during these pandemic days… doing our best to work and live within the (sometimes messy, sometimes joyous) walls of domestic distractions. Outside however, things look somewhat the same. There is no distancing occurring in the sky… instead, the cyclical hum of insect activity continues to fill the garden. 
For bees, life goes on. In the southern hemisphere, the season of Autumn is all about getting cosy in preparation for Winter. The bees have been working hard foraging, as they have a very important task to fulfil. They're not focusing on breeding, as they do in Spring. Right now they are usually calm, working together methodically to bolster their nutrient stores. They do well not to panic, and they keep focus on the basics: keeping warm, making sure they have enough to eat and reducing clutter in their home.
We can continuously draw parallels and take inspiration from, the life of bees. We might now take comfort that they are mostly uninterrupted by something that has shaken our human world to its core, and be reminded of the strength of the Hive Mind. But we may also draw connection to the challenges they face, and the dire environmental threats and disease such as the Varroa mite that imprint upon their future.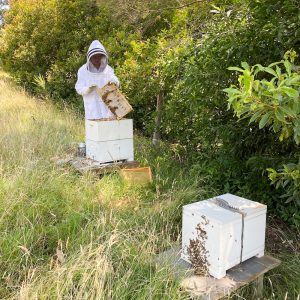 World Bee Day especially invites us to become aware, and engage in the plight of these very important pollinators. The relationship between humans and bees is a long, complicated one, but it has always been in our power to help safeguard their existence, and work towards common goals. Commercial and hobby beekeeping can be powerful and beneficial to humans and bees when enough responsibility and care is taken.
The keeping of bees has been around for millennia, and thousands of hobby beekeepers in Australia currently enjoy the challenges and triumphs of keeping bees.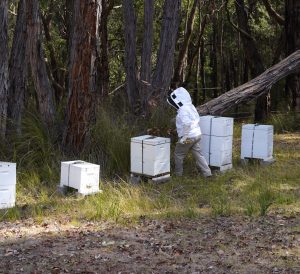 We will link below some wonderful resources if you would like to grow your knowledge of beekeeping. In uncertain times, you may find great joy in learning about hosting your own hives, for the humble bee always provides a lesson on the crassness and unpredictability of nature, and inspiration for the beautiful rewards of hard work.
Resources
http://agriculture.vic.gov.au/agriculture/livestock/honey-bees/compliance-and-management/hobby-beekeeping
https://www.agrifutures.com.au/product/australian-beekeeping-guide/
https://blog.flowersacrosssydney.com.au/beekeeping-guide-beginners/
http://agriculture.vic.gov.au/agriculture/livestock/honey-bees/beekeeper-registration-and-hive-disposal
Interesting for a little history:
info/a-treatise-on-modern-honey-bee-management/inescapable-change-the-australian-florida-connection/
MORE ON WORLD BEE DAY and the PLIGHT OF BEES